Sales Training Software: Transform Sellers Into Superstars
Empowering your sales team to crush quotas has never been easier.
Sales Training Is More Effective When It's Reinforced on the Job
Your sales reps have completed training. Why aren't they using new skills with customers? It's time to bridge that gap between practice and execution.
With Highspot, sales enablement and sales teams can build effective sales training programs and certify sales reps on key knowledge and skills, then—reinforce that knowledge through the same platform. This is how you boost seller confidence, readiness, and sales performance.
Build Better Training, Win More Deals
Your customers are evolving. Your reps should, too. Empower sales managers and enablement teams to train and develop sellers on new sales skills, personas, product messaging, and launches—ensuring your entire sales team is prepared to effectively engage buyers and meet quota.
Create Blended Learning Experiences
Easily build custom training lessons and courses, and boost training engagement by combining eLearning with instructor-led training (ILT) and virtual instructor-led training (vILT).
Import External Training
Unite training material between your learning management system (LMS) and sales enablement platform with ease, using Highspot's SCORM import.
Infuse Sales Methodologies
Maximize the ROI and adoption of sales processes and methodologies by easily connecting training content with revenue enablement programs via Highspot Marketplace.
Certify With Confidence, Boost Sales Readiness
The right training transforms good sales professionals into great ones. With Highspot, you will quickly onboard new hires, train salespeople with greater consistency, and drive mastery of core sales skills. Serve sales training anywhere, whether team members are online, offline, or on mobile devices.
Deliver Role-Specific Learning Paths
Curate interactive learning experiences by stacking sales training courses in order to drive sequential learning, and incentivize completion with the addition of role relevant sales certifications
Build Confidence With Video Practice
Prepare reps for customer interactions using video assessments and role-play simulations in Highspot, and facilitate ongoing collaboration among hybrid sales teams.
Engage Sellers with Live Training
Deliver live, hands-on training sessions using web-conferencing platforms, streamline enrollment and automate attendance tracking to ensure seller readiness.
Reinforce Onboarding and Training on the Job
Great sales onboarding and ongoing training ensure reps know how to apply essential selling skills in their day-to-day work. Highspot arms sellers just-in-time, with the best sales plays, critical sales skills, and key techniques they need to have better conversations with prospects and close deals faster.
Surface Knowledge When It's Needed
With sales assets and training materials in one place, you'll give your sales team the right collateral they're looking for at the right time, along with relevant, on-demand learning resources.
Embed Training Assets in Sales Plays
Reinforce critical selling behaviors and knowledge, and package top sales content, sales call recordings, and best practices all within sales plays.
Surface Training in Your CRM
Reinforce delivery throughout the sales cycle by offering training modules and sales plays within your CRM via Highspot's integrations.
Seamlessly Integrate With All of Your Favorite Tools
Extend the value of your tech stack and bring sales enablement directly into your reps' existing workflow, with Highspot's ecosystem of 100+ integrations.
You might be interested in: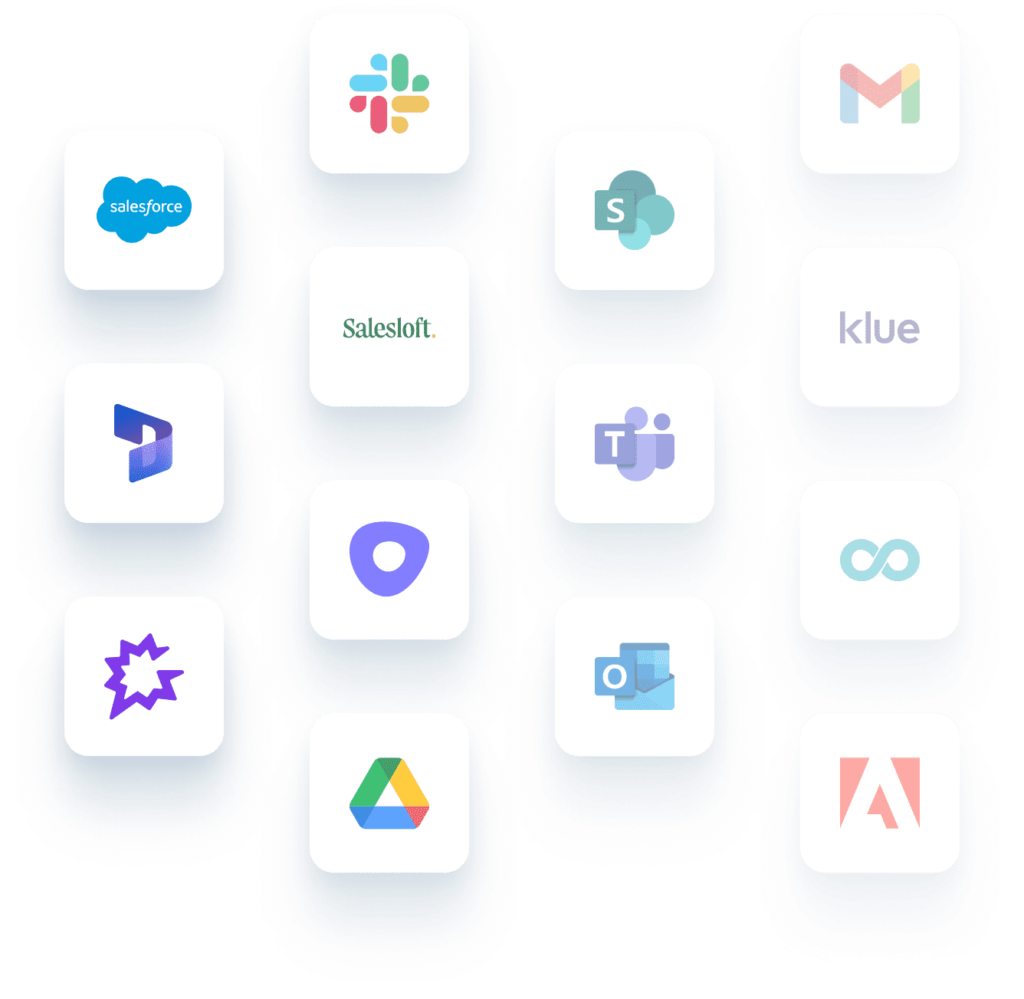 World Class Sales Training, On-Demand
Explore More by Team Needs
Marketing
Drive go-to-market alignment and increase content adoption by surfacing it when sellers need it most.
Sales Enablement
Scale onboarding and ongoing learning programs to deliver sales skills, knowledge, and the desired behaviors reps need to succeed.
Sales
Reinforce winning behaviors by integrating sales training and enablement to drive faster retention and adoption of methodologies.
Channel Enablement
Equip channel partner sales teams with the knowledge they need to be successful, quantify performance and optimize channel partner success.
Sales Training
Drive training adoption and retention by simulating traditional classroom learning activities in a virtual environment.