Sales Coaching Software: Smarter Coaches. Better Sellers.
Make every sales rep a top-performer with data-driven sales coaching.
Ready to Optimize Performance With a Structured, Scalable Coaching Program?
It's hard to know if your sellers are taking the right actions in sales conversations and where they need to strengthen their skills to perform better. Highspot takes the guesswork out.
No more lost deals due to performance gaps and inefficiencies. Sales managers and enablement teams unlock every sales rep's potential by pinpointing what's working and what's not, quickly upskilling reps, and driving sales effectiveness and consistency at scale.
Deliver Effective Sales Coaching Every Time
No more ambiguous feedback—with Highspot's sales coaching tools and in-depth dashboards, frontline sales managers and sales enablement teams can uncover which behaviors win deals, benchmark sales rep performance, identify opportunities, and hold empowering coaching sessions that uplevel your team.
Identify Winning Behaviors
Understand what sales content, sales plays, and sales call techniques are engaging buyers the most, repeatedly closing deals, and driving business outcomes.
Increase Sales Performance
Compare top-performing salespeople against other team members to diagnose performance gaps and determine how to replicate the most successful selling behaviors with 1:1 coaching.
Tune Coaching to Drive Growth Initiatives
Onboard, train, and coach current and new reps faster with selling behaviors that align to your organization's go-to-market strategy and track if reps maintain quality and focus when selling.
Turn Every Sales Rep Into a Top Performer
Your sales training went off without a hitch. Now, it's time to ensure new behaviors are successfully adopted during customer interactions. Highspot empowers sales leaders and frontline managers to deliver personalized coaching, hone skills, and boost win rates.
Scale Sales Readiness
Identify core competencies; create rubrics, skills assessments, sales training, and certifications; and lead data-driven coaching sessions that enable sales reps to close deals faster.
Build Confidence
Use video challenges, gamification, role-playing, and quizzes to help current reps and new hires practice newly acquired skills and achieve mastery before deals are on the line.
Replicate Best Practices
Codify and share top-performing behaviors to help team members strengthen core skills, like discovery, objection handling, and cross-selling.
Reinforce Your Sales Processes and Methodologies
Consolidate, automate, and streamline coaching on sales processes and deals into a single workflow with Highspot. Sales managers gain greater visibility into seller adoption and day-to-day performance with conversation intelligence metrics—enabling them to guide reps on key selling concepts and methodologies during daily coaching conversations.
Ensure Sales Methodology Adoption
Bring your preferred sales methodology into Highspot with just one click, so relevant materials are surfaced in the content, selling, and training platform your sales reps use every day.
Coach Reps in Real-Time
Give more meaningful, comprehensive feedback while reps are in action by syncing coaching efforts with content, sales plays, training modules, conversation intelligence, and CRM workflows.
Ace Every Sales Call
Quickly drill into call recordings and emails to understand how efficient and effective your salespeople are with revenue intelligence analytics—making sales conversations smarter.
Seamlessly Integrate With All of Your Favorite Tools
Extend the value of your tech stack and bring sales enablement directly into your reps' existing workflow, with Highspot's ecosystem of 100+ integrations.
You might be interested in: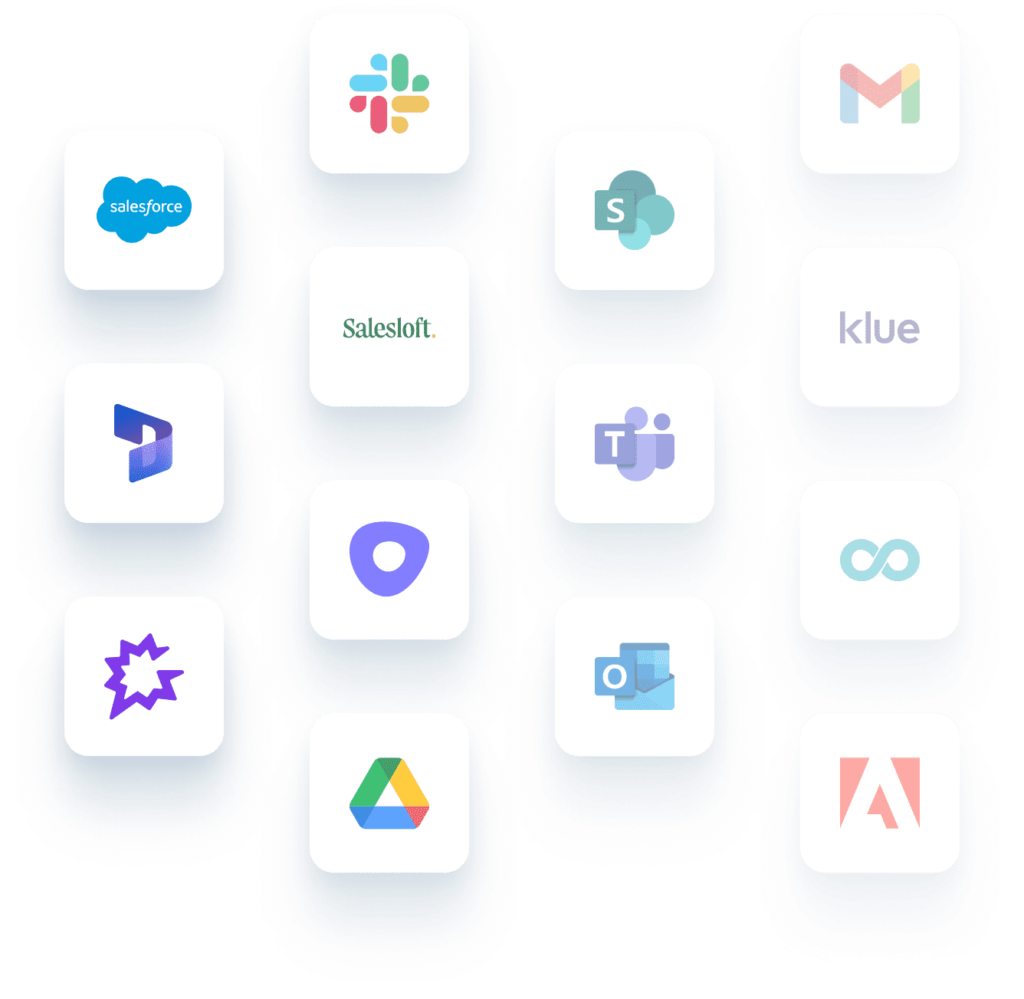 Boost Sales Team Performance—and Your Win Rates
Explore More by Team Needs
Channel Enablement
Guide your partners with the insights and resources they need to carry out your initiatives effectively.
Sales Enablement
Deliver engaging onboarding experiences and reinforce knowledge at the moment-of-need, all from within the same interface sales reps use to sell.
Sales
Quickly identify and scale what's working and whether sales reps are aligned to the go-to-market strategy.
Marketing
Drive go-to-market alignment and increase content adoption by surfacing it when sellers need it most.
Sales Training
Help sellers apply newly acquired knowledge, boost seller confidence, and deliver targeted feedback to drive consistent performance.