Sales Content Management: Boost Adoption. Prove Content ROI.
Equip sales reps with the right content to engage and convert buyers.
Arm Sellers With Up-To-Date, Relevant Content at Their Fingertips
Enablement and marketing teams spend time, energy, and budget building content for salespeople. But when sellers don't use those assets—or can't find them—all that effort goes to waste.
There's a better way.
With Highspot, you can upload, organize, merchandise, and centralize content within a single sales enablement platform that sellers can easily navigate. Now, sales teams can quickly personalize and share content with buyers, and marketers can track key metrics on internal and external performance—enabling you to elevate and optimize your content strategy.
Serve up the Most Effective Sales Content, Fast
Content chaos is a thing of the past. With Highspot's effective content management platform, your team no longer has to wade through multiple, disorganized content libraries to find the right sales enablement content. Instead, everything they need to engage buyers is stored in a single source of truth, and surfaced in a sales rep-friendly interface. Now, finding and pitching sales collateral—and winning buyers over—is easier than ever.
Powerful Content Search
Google-like, AI-powered search helps reps browse, filter, and ask questions to quickly locate the right content for specific buyer personas, or stages of the sales cycle, geo-location, selling scenarios, and more.
Create Content Experiences Reps Want
Curate personalized browsing experiences using our SmartPage technology or let our patented AI suggest top-performing content based on what's previously worked for reps in similar buying scenarios.
Align Content to Buyer Journeys
Ensure reps use the most effective pieces of content for every buyer interaction by surfacing content alongside contextual descriptions, how-to-use guidance, related training, and reviews from peers.
Accelerate Sales Rep Execution
When your sales assets are scattered between disparate systems, it slows down sales processes, reps—and their ability to close more deals. Highspot's sales enablement platform makes it easier than ever to organize, manage, and govern marketing collateral, so your team has the best sales assets on hand to engage buyers in person, over email, on social media, or in the field.
Sync Content Across Systems
Supercharge sales outreach and nix inefficient admin processes by synchronizing content and metadata from existing content repositories or DAMs into our centralized, managed locations called Spots.
Streamline Content Organization
Simplify how you organize and showcase collections of content by aligning to specific selling scenarios or buyer needs, making it easier for your entire sales force to find what they need.
Analyze Impact in Real Time
Optimize your content creation strategy with real-time dashboards and reports that reveal how sellers use content, whether or not it influences deals, and which types of content drive sales engagement.
Master Content Governance, Eliminate Surprise Problems
Out-of-date decks? Off brand assets? With Highspot, you never have to lose sleep worrying over the status of your sales materials. Our content management solution is equipped with robust content governance tools that allow all stakeholders to maintain brand consistency, and ensure assets are compliant, up-to-date, and ready for buyers.
Streamline Content Management Rules
Control what gets published, how it's shared, and with whom using built-in content approval workflows and advanced audit trail functionality to manage governance, track usage, and automate reviews.
Audit Content at Scale
Use governance reports and insights to identify content that needs to be updated or archived. Then, take follow-up action directly within the report to audit and organize your content environment.
Set Content Creation Standards
Expedite approvals and ensure consistency by setting centrally managed requirements for contextual details like intended buyer audience, tips on how to use assets, and associated templated emails and call scripts.
Seamlessly Integrate With All of Your Favorite Tools
Extend the value of your tech stack and bring Highspot's sales enablement tool directly into your reps' existing workflow, with our ecosystem of 100+ integrations.
You might be interested in: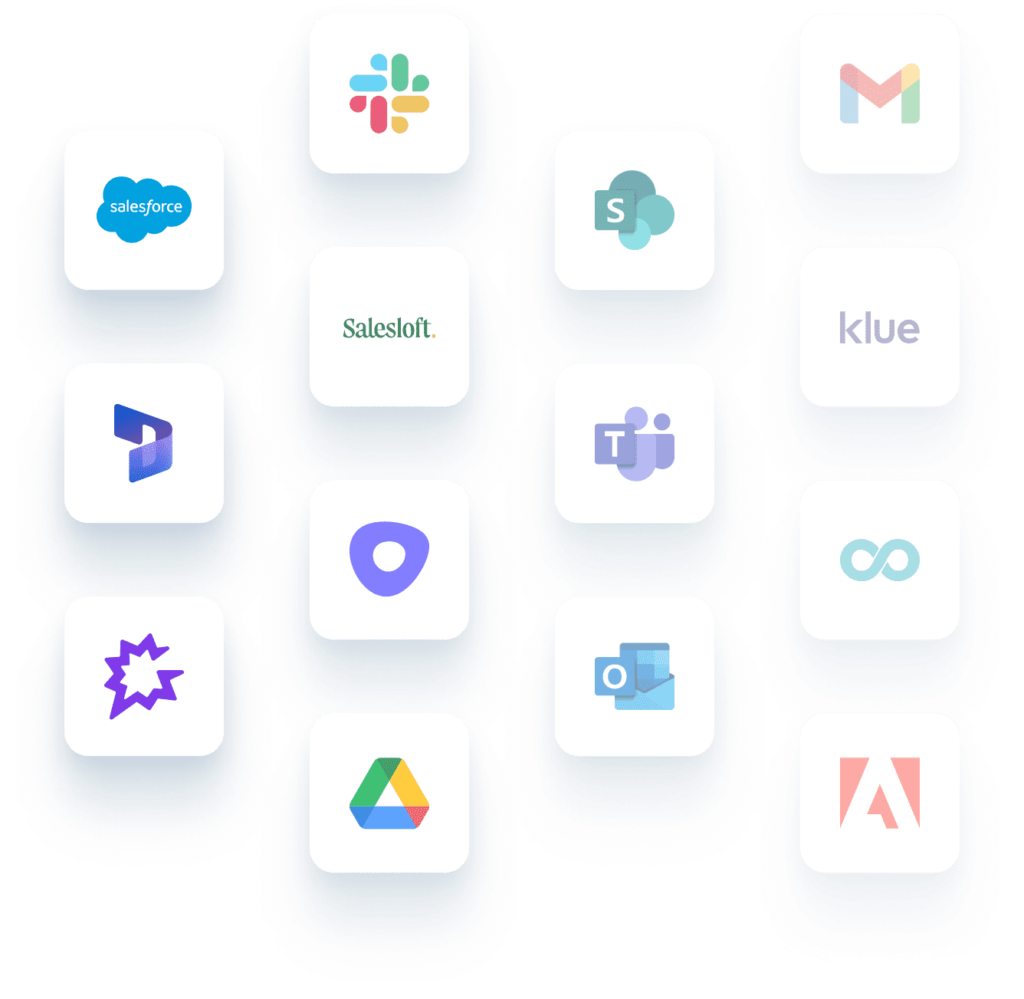 Stop Content Chaos. Start Driving Revenue.
Explore More by Team Needs
Marketing
Ensure reps always have the most relevant, on-brand content at their fingertips for every selling scenario and gain insight into how content impacts revenue.
Sales Enablement
Organize, publish, and govern content more effectively, optimizing reps' time with a single source of truth with relevant, on-brand messaging.
Sales
Maximize rep efficiency and eliminate the complexity associated with finding and personalizing the content required for sales productivity.
Channel Enablement
Extend access to your partner network to simplify the maintenance of multiple platforms, enabling both reps and partner sellers to deliver a unified message.
Sales Training
Get a complete view into the impact of training with insights into how effectively reps are engaging buyers, landing value, and driving revenue.