Buyer Engagement: Make Every Experience Count
Equip sales reps to delight buyers and deliver value in every interaction.
Tailor Your Buyer Engagement Strategy to Each Deal
B2B buying is more complex than ever—in fact, 80% of buyers report feeling overwhelmed by the amount of information encountered in the buying journey. In a cluttered sales landscape, your buyers deserve a unique, tailored experience that helps them navigate through the layers of decision-making and buy with confidence. You can deliver all that and more with Highspot.
You can deliver all that and more with Highspot.
Execute a personalised buyer engagement strategy in every deal. Empower your enablement and sales teams to quickly create and share interactive, value-driven digital sales experiences with only the most relevant resources for each buyer. Data-driven insights further reveal which engagement strategies are effective, allowing revenue leaders to continuously optimise execution at every stage of the sales cycle. With buyer experiences like this, you'll build stronger connections, interactions, advocacy and—ultimately, revenue.
Empower Every Seller to Deliver Modern Buyer Experiences
Spam-y emails that look just like your competitors'? No thank you. With Highspot, you can create personalised, interactive buyer and customer experiences in minutes, boosting customer satisfaction. Templates scale your work while editable sales content allows sellers to customise experiences and deliver unique, value-driven interactions at every touchpoint in the buyer journey.
Curate Relevant Content in Digital Sales Rooms
Drag-and-drop editors make it easy to build digital sales rooms, giving your sellers a one-stop shop to customise, collaborate, and share content with buyers.
Share Meeting Recordings and Personalized Video
Have your reps record and share personal introductions, demos, walk-throughs, or include meeting recordings as follow-ups to ensure every stakeholder understands your value.
Collaborate Across Selling and Buying Teams
Within digital sales rooms and internal workflows, your sales team can collaborate with sales engineers, legal, and deal desk to centralise sales content, RFPs, contracts, and more.
Move Deals Forward by Landing the Right Value, at the Right Time
Less is more when it comes to engaging buyers with the right story, messaging, and information. With AI and automation, generate email copy and recommend the most impactful content for each sales scenario, while our templates and tools let you scale successful engagement strategies and shave time off seller's workflows.
Scale Customer Engagement Strategies
Do more of what works with buyer engagement templates that help sales reps consistently land product launches, competitive differentiation, cross-sell, and other key initiatives.
Personalise Sales Content
Combine, edit, and customise on-brand, compliant slide decks, PDFs, and more directly within Highspot, ensuring your sales reps always share relevant content with buyers.
Engage Everywhere
Seamlessly sync sales efforts across LinkedIn, email, sales engagement platforms, and your CRM, so sales reps can engage buyers wherever they are.
Gain Unparalleled Visibility Into the Entire Customer Journey
Give your buyers the customised experiences they crave, while measuring what works. Highspot captures buyer engagement metrics across every touchpoint, from email opens, to time spent reading a brochure. Now, you can see what which initiatives and sales and marketing strategies are resonating with buyers—and driving revenue.
Track Buyer Behaviour
Get real-time insights into buyer activity including content views, linger time, email opens, downloads, shares, and more to help you improve the sales process and create better customer relationships.
Optimise Your Outcomes
Build nimble, responsive sales strategies with patented AI that automatically connects buyer engagement metrics to associated CRM records for a 360-degree view of every customer.
Put Insights to Work
Surface engagement insights to address changes in decision-making and iterate on your go-to-market approach: scaling production of top-performing messaging, content, and templates.
Seamlessly Integrate With All of Your Favourite Tools
Extend the value of your tech stack and bring sales enablement directly into your reps' existing workflow, with Highspot's ecosystem of 100+ integrations.
You might be interested in: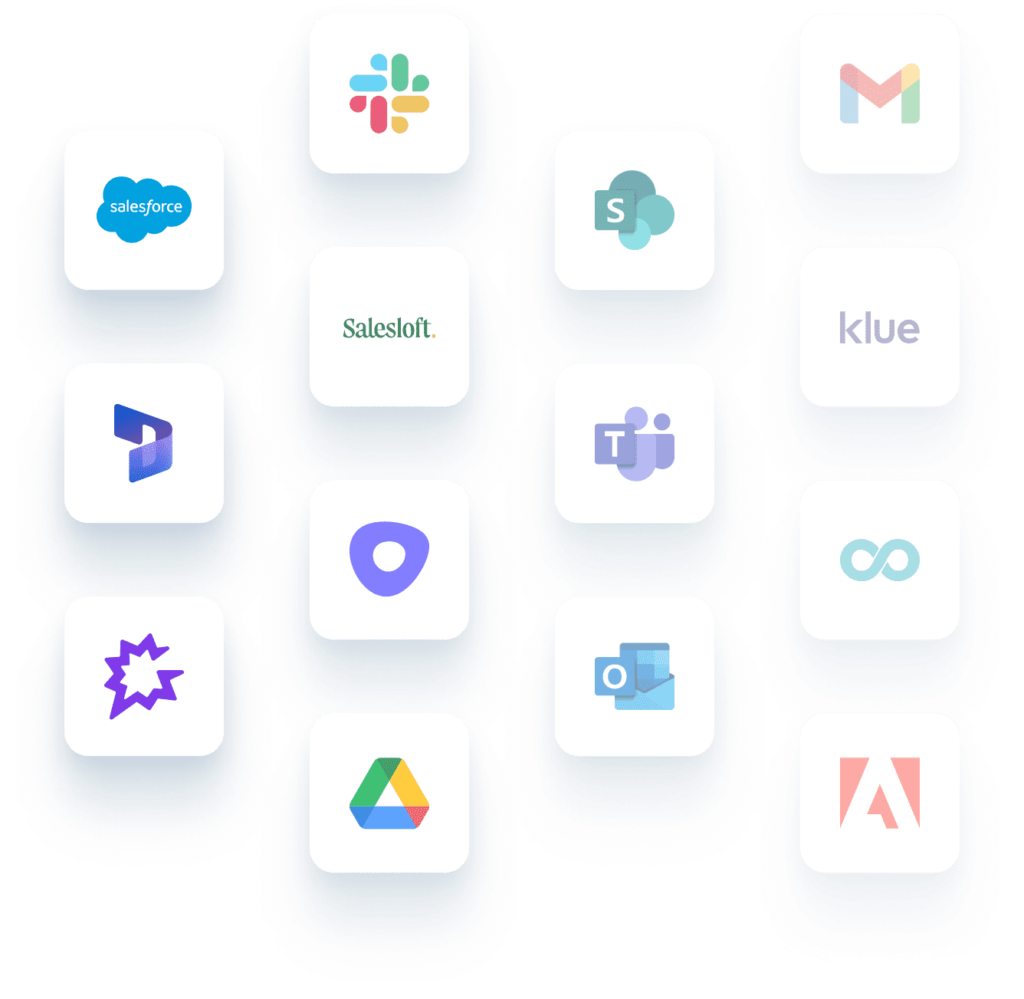 Build Modern Experiences That Capture and Keep Buyers' Attention
Explore More by Team Needs
Marketing
Feel confident sellers are using the right content and messaging then track usage and revenue impact to uncover what's working and what's not across your initiatives.
Sales Enablement
Guide sellers to deliver personalised buying experiences complete with the right tools and resources for every buyer.
Sales
Help your sellers drive deals to close with unique insights into buyer activity to uncover blockers, understand buying dynamics, and personalise follow-ups.
Channel Enablement
Drive consistent buyer experiences and win channel mindshare by guiding your partners with easy access to on-brand, approved resources.
Sales Training
Get a complete view into the impact of training with insights into how effectively sellers are engaging buyers, landing value, and driving revenue.