Sales Productivity Starts Here
Ready to drive revenue? Enable your teams with content, training, coaching and insights in one platform to grow your business.
Trusted by Companies All Over the World
The Sales Enablement Platform That Empowers Your People
With the right sales enablement platform, you can drive the behaviour changes and the precision required to win more deals in less time.
How Highspot works:
Manage Sales Content

Arm sales reps with the right content at the right time to engage and convert buyers.
Land Sales Plays and Playbooks

Prepare your sales reps for every selling scenario.
Engage Buyers

Scale personalisation with digital sales rooms to deliver memorable, engaging buyer experiences.
Onboard and Train Reps

Make every seller a superstar by building onboarding and ongoing training programs that stick.
Coach Reps

Increase seller confidence and empower managers to develop their teams.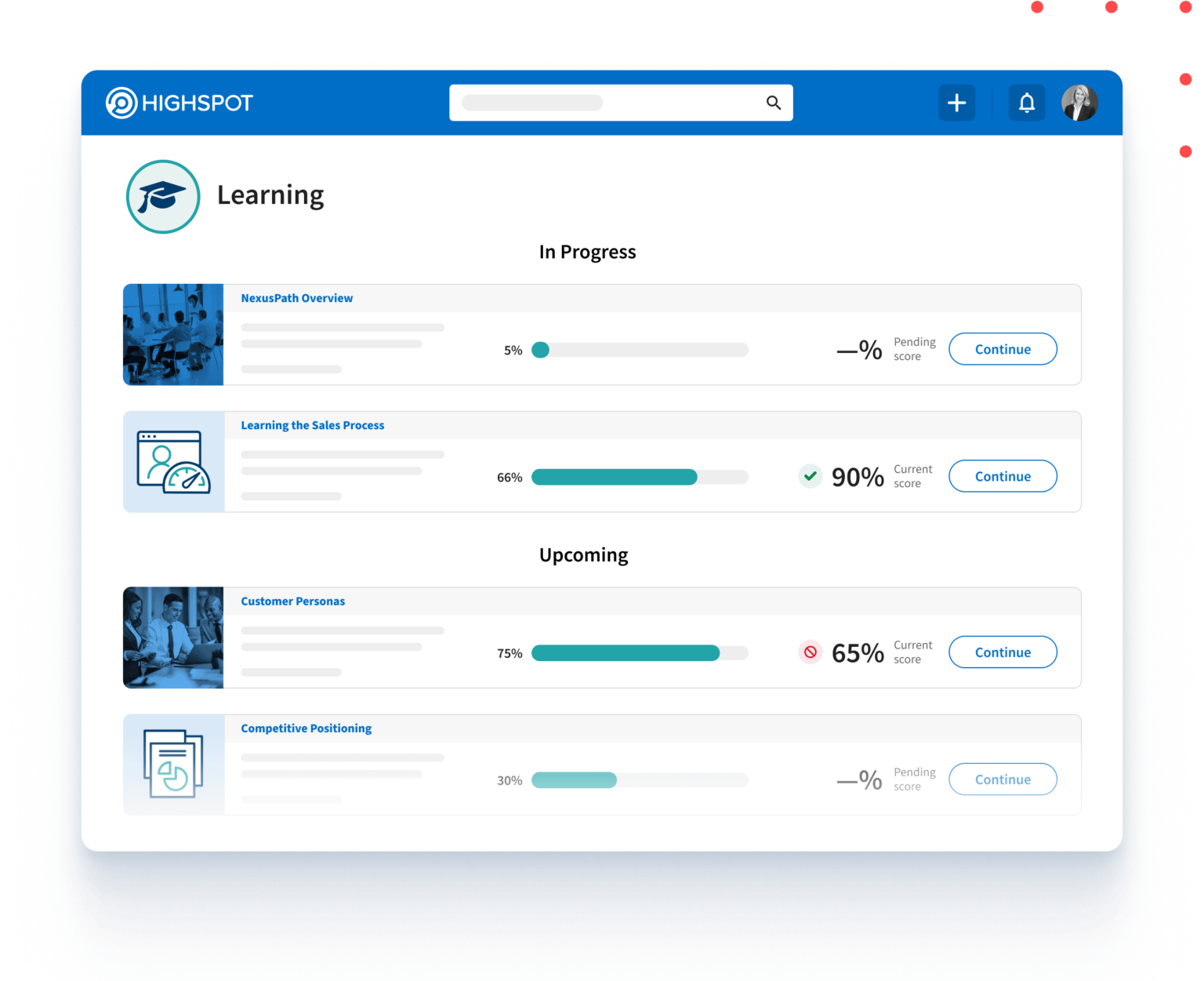 Experience What Good Looks Like With Highspot
Take your enablement efforts to the next level with The Essential Sales Enablement Playbook. Find answers to all your enablement questions, proven tactics, best practices, and more.
The Proven Approach To Optimising Sales Team Performance
Streamlined sales processes drive business results. To do enablement right, you need a strategic approach, the ability to equip, train, coach, and analyse sellers in a single platform, and a technology partner invested in your success. Highspot provides all three.
Teams Who Choose Highspot Experience These Results:
14%
Increase in Pipeline Generation
20%
Increase in Sales Reps Attaining Quota
25%
Decrease in Sales Rep Ramp Time
You've Got a Number to Meet. We'll Get You There.
Book a Live Demo
Get a personalized walkthrough to see how Highspot can grow your numbers.
Watch a Video Demo
Watch a quick video overview to see how Highspot enables sellers to engage more effectively.
Hear From Our Customers
20%
Increase in Average Deal Size
10%
Decrease in Sales Cycle Time
Ready To Chat?
See how revenue teams use Highspot to power efficient growth.
Recognized by: Forrester, Gartner, Forbes, and Fortune for innovation and growth.