Highspot for
Life Sciences
Equip your reps with compliant, data-driven content on any device so they're ready to drive engaging conversations with your healthcare buyers.
See It In Action
Less Time Searching, More Time Selling
Make it easy for sales teams to find the right materials anytime, anywhere, and on any device, even while offline.
Improve Sales Effectiveness
Increase quota attainment with AI-driven recommendations that pair the best collateral with each sales situation.
Reduce Risk with Up-to-Date and Compliant Content
Eliminate risk and more effectively govern your content so sellers always have the most accurate and compliant information to share with buyers.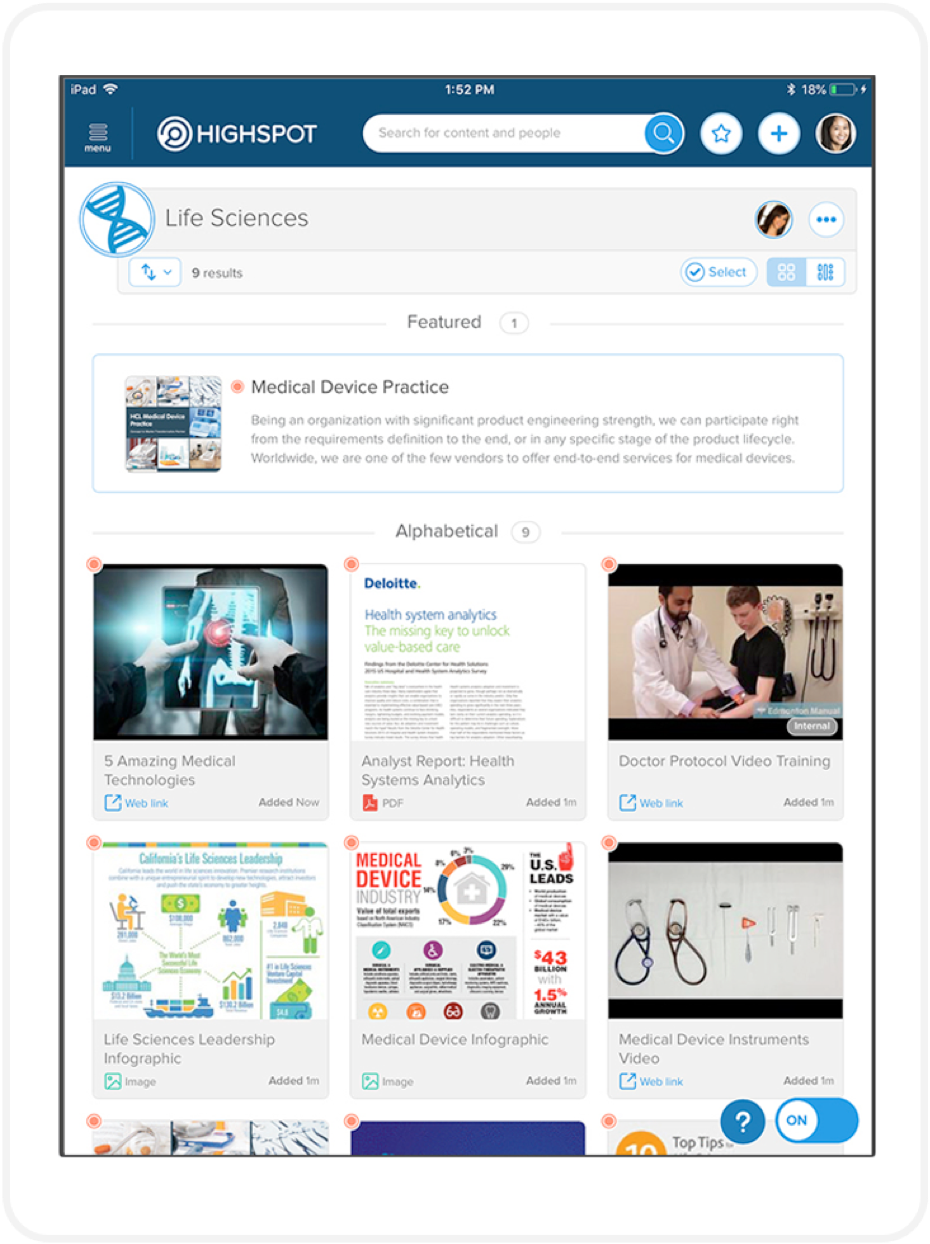 I think it's a lot easier for us to publish content and get it to the right people and get them looking at it. I think overall it's saving time. It allows people to see what each team has out together really quickly… You can really easily see what's out there. It's all with a click of a button
-Doug Case, Sales Enablement Manager, ERT
Content On-the-Go
Allow easy pivots in front of customers with our mobile app to be effectively speaking to all product offerings, on any device, even while offline.
Compliant Content Every Time
Create guided selling and intuitive ways for sellers to browse and find content, ensuring the content they use is always in compliance.
Search with Ease
Reduce the amount of time reps spend searching for collateral with enhanced search capabilities and filtering.
Understand What's Working
Track content usage, training progress, pitch performance, and buyer engagement to quantify the most effective materials in every sales situation.